First let me give you a quick update on Little Miss Tootsie Peppermint. She was my Pay It Forward Ebay Giving Works item that I posted about earlier. Well she just ended and I am SUPER EXCITED and SUPER HAPPY as she ended at $63.00 whoooo hooooo! The proceeds will be donated to the Human Society US in loving memory of a dear friend.
NOW for some more exciting news. I have reached Lucky Number 13!!! 13 Followers, yeah and thank you so much for joining me!! Keeping somewhat in a Halloween Theme, I have decided that this is a perfect time in my new Blog to do my very first giveaway. I have just been howling to do one, lol. So what is it? Well first let me tell you what it isn't, it will not be a piece of my art. Want to enter, become a follower of my blog and post a comment that you would like to be entered. I will post more information and another clue tomorrow, hehehehehehehehehehe. Makes things a little more interesting now doesn't it, not knowing what your entering for. Thats okay, I know what it is, so go ahead and enter, if you dare, hahahhahahaha. Hope to see you again real soon.
Trick or Treat my Sweet?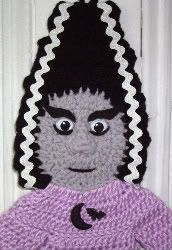 Thanks for stopping by.
Brenda