WIP / LOL
I'm really hoping that the change of scenery and a little mood music here will put my mind on track to Christmas / Yule Creating, sure hope it works and this is why....
Recently I took an online sculpting course with Pattee of Odd Dolls
www.odd-dolls.blogspot.com
and I must say she is such a sweet person. I have completed the first class and well yay, I've already signed up for her second class. I think I've found a new passion, hummmmm not quite sure yet but it might just be better than yarn, hehehehehe. Well I'm certainly no master sculptor, but with a little practice ummmm you never know, right.....
Well here is a picture of my first piece she isn't finished yet maybe after Christmas.
Last night I sat down determined to sculpt my second piece and my first Christmas / Yule Ornament but again the brain appears to be still in Halloween mode because it became this...Looks a bit more like a Disney's Haunted Mansion Ghost Face to me, sigh.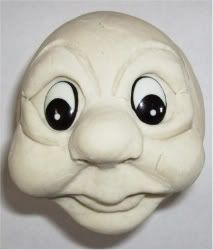 So as you can see I really need to convince my brain that its time to create for the Christmas / Yule Season before it is over, I sure hope this works, hehehehehehehe.
How about you??????
Brenda